Between Nutriplenish, Scalp Solutions, Botanical Repair and Invati Advanced, it can be daunting to choose the perfect Aveda product for your styling needs. But don't worry—we at Bliss Experience Salon and Spa have you covered! Prepare to elevate your self-care ritual and reveal the hair you've always envisioned, the Aveda way.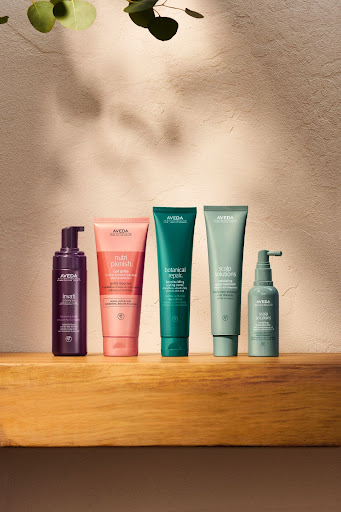 Feel a Single Strand of Your Hair: What Texture Does it Have?
A-It's course 
B-It's delicate 
C-It's thin
D-It's oily 
How Much Effort Do You Put Into Styling Your Hair?
A-I have to maintain it everyday!
B-I just try not to mess with it too much 
C-I try to make it look as voluminous as possible 
D-I really just need dry shampoo here and there
If You Could Change One Thing About Your Hair, What Would It Be?
A-I could use less frizz and more definition 
B-I shed way too much!
C-I want more volume
D-I definitely could use a little less build-up 
Who Is Your Hair Inspo?
A-Early (and curly) Sarah Jessica Parker
B-Always Selena Gomez, that fullness! 
C-Beyonce. On Stage. Fan Blowing. Fabulous
D-Clean-girl aesthetic like Hailey Bieber
What Does A Bad Hair Day Mean To You?
A-My curls aren't sitting right
B-I have more breakage/fallout than usual 
C-Things are looking flat for me
D-My scalp feels itchy and flaky
And A Good Hair Day?
A-My hair feels bouncy and fabulous 
B-My hair tie came out with no hair on it, YAY
C-I look like I got a blow-out without even trying 
D-My hair is giving freshly washed and dried
If You Had One Word To Describe The Hair Products In Your Routine, Which Would It Be?
A-Definitely rich—the thicker the better!
B-They tend to be weightless, I hate when my hair feels overloaded with product
C-Lots of aerosol for maximum hold & volume
D-Cooling and soothing, anything to reduce scalp irritation
The Results Are In:
Mostly A's: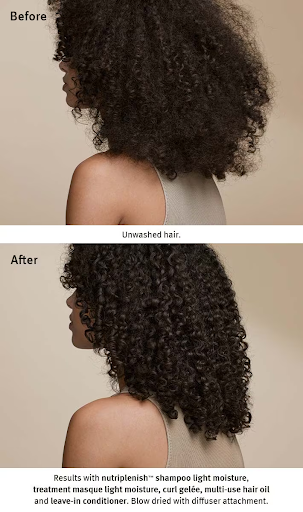 Your perfect match is the tried and true Nutriplenish Curl Gelée. This gel defends against humidity and frizz for up to 24 hours to keep your coils, curls and waves in perfect condition. The superfood-infused formula deeply hydrates and nourishes to keep your texture looking its best. No heavy buildup for your ringlets—this formula is lightweight and ultra-flexible, leaving your strands silky, smooth and defined all day long. 
Apply right out of the shower by smoothing it evenly onto damp hair, from roots to tips. Glide down your lengths to stretch out those curls, or scrunch for definition & bounce. Let it air dry or blow-dry with a diffuser to plump up the volume and refine those curls. Once fully dry, give your roots a gentle shake and scrunch for a final touch of softness. 
Mostly B's:
Botanical Repair Bond Building Styling Creme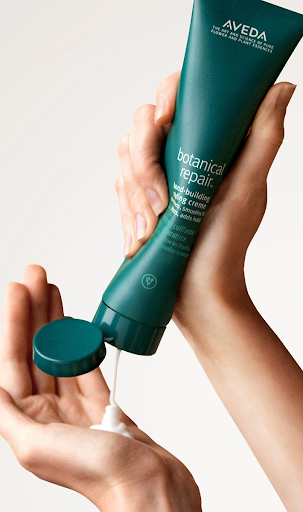 Your new must-have is the Botanical Repair Bond Building Styling Creme. This multi-tasking creme gives a flawless finish to any style while protecting each strand to reduce signs of damage. Free of heavy silicones, its advanced bond-building technology forms an armor against thermal damage—withstanding heat of up to 450 degrees to prevent future breakage & restore visible health. Experience ultimate hair rejuvenation as this creme builds new bonds, fortifies your hair's core, and envelops your strands in a protective botanical embrace. 
Apply throughout damp hair to delicately smooth the hair cuticle and detangle unruly strands. This cream will truly be your partner in crime when it comes to getting the style you want, without the damage. 
Mostly C's:
Invati Advanced Thickening Foam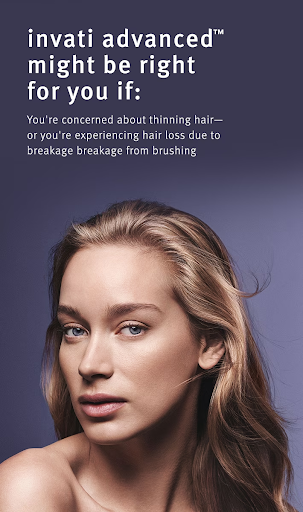 So, you really want to pump up the volume? The Invati Advanced Thickening Foam is going to be your new BFF. This luscious foam instantly thickens the appearance of each strand while providing flexible hold and shine. Formulated with a 100% vegan rice protein blend, it delivers intense nourishment and strengthening while you style.
Apply Invati Advanced Thickening Foam by pumping 3-5 pumps in your hands to emulsify. Run the product through damp hair from root to tip before blow drying—and watch the volumizing magic happen. 
Mostly D's:
Scalp Solutions Exfoliating Scalp Treatment and Refreshing Protective Mist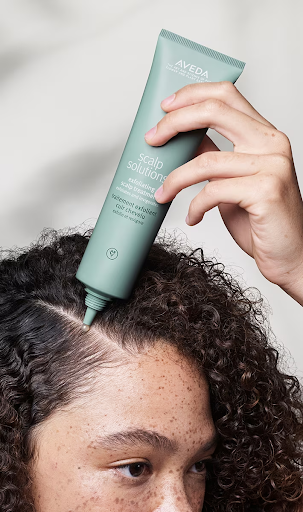 Your scalp may be feeling oily, itchy, or dry if you picked mostly Ds—that's why The Scalp Solutions Exfoliating Treatment and Refreshing Protective Mist will be your new favorite duo. Start your shower with Scalp Solutions Exfoliating Scalp Treatment and say "bye bye" to itchy and uncomfortable build up. This salicylic-acid based treatment instantly removes surface pollution and sebum by 76%, and should be used 1-2x a week. 
But what about in between washes? Don't fret—the exfoliating treatment pairs beautifully with Scalp Solutions Refreshing Protective Mist. This mist instantly reduces sebum by 40% and keeps the oil on your scalp in check for 48 hours. This lightweight solution not only controls oil to extend time between washes, but also protects your head from pollutants and oxidative stressors. Apply this solution directly to your scalp and massage it in as needed throughout the week. 
Your Hair, Decoded
Now that you've met your perfect Aveda match, all that's left for you to do is enjoy the journey towards healthy, radiant, effortlessly-styled hair. 
Still need a little more advice? Stop by Bliss Experience Salon and Spa to browse our full range of Aveda products and let our hair experts guide you to your perfect routine.